There's lots of things to do and lots of things to find out about the wildlife and nature that's all around you by just looking, investigating, discovering and detecting. You can go detecting in your local park or down your street, you can even go detecting in your own back garden or school playground, in fact, you can be an Eco-Detective just about anywhere! Just put on your detecting clothes, pack some tasty sandwiches and off you go...

BULLETIN BOARD

Send us pictures and stories of what you've been doing for the environment and we'll paste it up on the Eco-Detective Bulletin Board!
Click below to see what's been happening!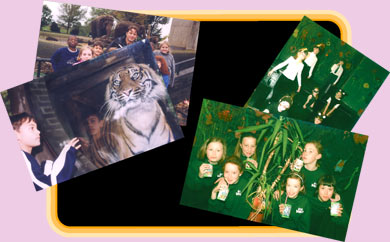 WHAT YOU NEED TO BE AN Eco-Detective

Warm, comfortable clothes- keep an eye on the weather, if it's going to be cold then you'd better take a coat and hat.
Comfortable, sturdy shoes or trainers - if you're going somewhere muddy why not take some boots?
A notebook or pad of paper and pencil - to jot down all your Eco-Detective discoveries.
A strong bag - for putting your recycling discoveries in, and for carrying your lunch!
Permission from your parents - best take a watch so you're not late home for tea!